30 Quick & Clever Household Tips You Might Not Know
Cleaning hacks, saving money and organization tips all come together to make life a bit easier so you can enjoy the simple things.
There are so many things you can do to save time and make daily tasks a bit easier and more pleasant to do. I found many tips that discuss various ways to make life easier.
1.Use a magnetic strip to store bobby pins on inside of a cupboard.
2.Use a Post-It note when drilling to catch the dust.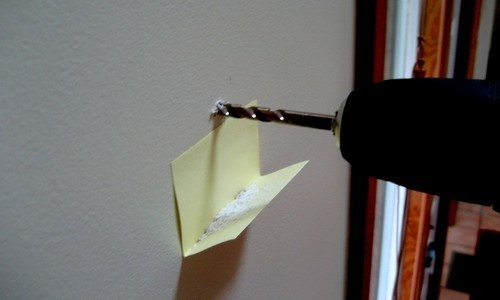 3."File" clothes vertically in drawers so you can see your clothes at a glance.
4.Hang onions in cut-up tights or old stockings to make them last for months!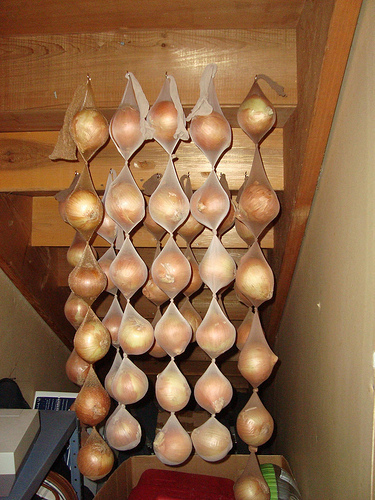 5.Remove pet hair from furniture and carpets with a squeegee.
 6.Create a thrifty organizer for wrapping paper using cup hooks and painted dowel rods.
7.Use bread tags to label power cords.
8.Use a tension rod and shower hooks to store saucepans inside a cupboard.
9.Keep your boots off the floor by hanging them with pant hangers!!
10.Make a simple laundry bag using an old pillowcase and an embroidery hoop.
 11.Use scrap paper to help hang an arrangement of picture frames easily.
12.Use toilet paper rolls to easily organize power cords.
13.Re-purpose an unwanted Slinky to create a pretty bird feeder.
14.The simplest way to slice a bunch of cherry tomatoes is to sandwich them between two plastic lids and run a long knife through all of them at once!
15.Keep brown sugar soft by storing with a couple of marshmallows
16.Store cut lettuce in mason jars and refrigerate to make it last much longer
17.Organize scarves by tying around trouser hangers to store in your wardrobe
18.Kitchen Cupboard Divider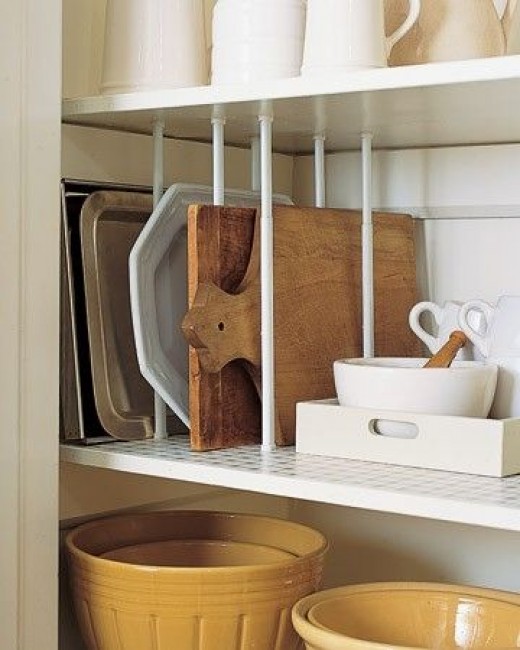 19.Tape a laundry bag to the inside of your tumble dryer door for easy drying of sports shoes.
20.Use two coat hooks to hang an ironing board.
21.Use a magazine holder to store rolls in the kitchen
22.How to grow tulip indoors in water.
Source
23.Place a wooden spoon over a pan to stop the water from boiling over
24.Make a Canning Jar Soap Dispenser.
25.Towel hangers on the inside of a pantry door make great storage for awkward saucepan lids!
26.Wash kids Lego's in laundry bag.
27.Wrap rubber bands around the ends of a coat hanger to prevent dresses from slipping off.
28.Cork as Earring Holder.
29.Store matches in a mason jar and add a disc of sandpaper to the lid on which to strike them.
30.Keep Your Car Tidy, Too.
Save