20+ Gorgeous Backyard DIY Projects That Make You Go Wow
Having a tight budget does not mean your outdoor space has to be bare and lifeless. You can create an oasis with very little money as long as you reuse and recycle various items that you would likely throw away anyway.Luckily, however, there are plenty of upgrades that are affordable, functional, and reasonable for smaller yards. From minor upgrades, like mosquito repelling plants, to larger projects, like climbing walls, you can upgrade your backyard without breaking your bank.
Check out 20+ Gorgeous Backyard DIY Projects That Make You Go Wow right here.
1.Potted Lighting
Amazing simple LED lights turn garden planters into yard lighting.
2.Skateboard Swing
This upcycled skateboard swing is not only clever, it's quick! This tutorial will let you have your own in 20 minutes!
3.Water Blob
Your kids will have a lot of fun with this "water blob" this summer. Check out how to make one here.
4.Wooden Toadstools
Liven up your garden or yard with cute wood toadstools. The tops are actually made of salad bowls!
5.Party Decorations
A bunch of flowers in bottles can make awesome party decor!
6.Wine Tikis
Wine bottles make awesome tiki torches. Find out how to make your own here.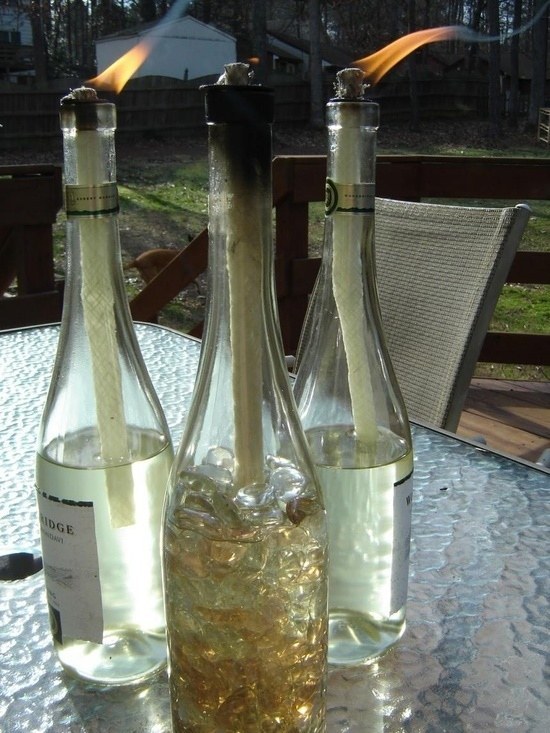 7.Inflatable Fountain
Create a fancy fountain out of simple baby pools!
8.Garden Village
Make a little village in your garden. You'll kids will love it!
9.Natural Bike Rack
An old log can make a rustic bike rack!
10.Bean Pole Tee Pee
Make natural, leafy tee pees with bean sprout poles!
11.Rock Lining
Line your patio with rocks for an inexpensive, fashionable edging. You can also add rope lights for nighttime edging.
12.Floating Beverages
Create your very own beverage boat for just $2 with this tutorial!
13.Backyard Beach
If you are crazy about the beach, you can make one in your backyard. Check here for tips to make a great backyard beach.
14.Key Chime
This colorful craft project is great for kids. Check out the how-to.
15.Outdoor Chalkboard
Chalkboards don't need to be confined to indoors. Put one outside for your kids to have fun with!
16.Natural Mosquito Repellent
Potted lemongrass can be transferred to your garden once it develops roots and will naturally keep away a mosquito.
17.Fence Mirrors
Make your backyard look even bigger with cool mirrored window frames. You can use this tutorial.
18.Chair Swing
You can upcycle an old dining room chair into a neat outdoor swing. Check out this tutorial if you know Swedish or have good translation software!
19.Homemade Slip and Slide
All you need is sprinklers and a tarp to create your own inexpensive slip and slide.
20.Garden Hedgehogs
A plastic bottle can create a base for adorable garden hedgehogs. Find out how to make them here.
21.Plant Diapers
Believe out not, diapers actually help keep your plants from drying out too quickly.
22.Tree Stump Upcycles
You can turn your tree stumps into plants, tables, and more. Check it out here.
Save